Sydney's Taronga Zoo may be heartwrenchingly beautiful overlooking Sydney Harbour and Adelaide's zoo ain't bad either, but what if you and the family want to get closer to the animals than sneaking a peek into an enclosure? Try these destinations for size: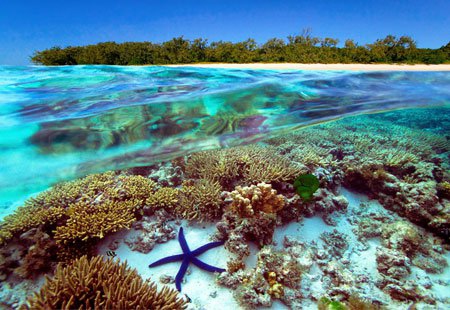 Part 1
1
NSW South Coast: Pebbly Beach
Some campers find the kangaroos a tad pesky, because they have as much gall as a charity doorknocker, scratching on your tent as soon as the sun is up to beg for food. But if an intimate native animal experience is your thing, then this camping and caravan ground in Murramarang National Park could be for you. Visitors are asked not to feed the animals, but that doesn't stop the roos asking. You can camp from around $5-$10 a tent site or book a cabin from $90 a night.
WHERE: Around 300km south of Sydney.
2
WA North Coast: Monkey Mia
What could be nicer than hand-feeding the friendly dolphins that enter the sparkling waters and have been entertaining tourists since 1964? It's something your kids - and you - would never forget. In a World Heritage Area that includes dugongs and amazing coastal scenery, Monkey Mia is only a part of the offering around Shark Bay, where you can also cruise the coastal waters or head a couple of hours north to see Ningaloo Reef. The local resort offers camping from $15 per night right up to $320 a night beachfront villas, so there is something to suit all price ranges.
WHERE: Around 850km north of Perth, close to Carnarvon.
3
NSW, Vic, Tas, Qld: Watch the whales
There is nothing more thrilling than seeing a whale breach from the water in all its majesty. It's even better if a baby calf is nearby and you can see the huge beasts up close. These massive creatures spend summers in Antarctica and spring travelling up the Australian coast to get to the sub-tropics. Southern right whales appear off the south coast of Australia in winter but the humpbacks pass up and down the entire coast twice - once on their way to have their babies and the second time around to bring the calves back to icy Antarctica. Jervis Bay, Port Stephens and Byron Bay are top whale-watching spots in NSW, with Hervey Bay in Queensland operating plenty of great tours to get you close.
WHERE: All over Australia's east coast - even Port Arthur in Tasmania!
4
Qld: Heron Island
This isn't your typical Whitsunday paradise island and apparently the muttonbirds are so loud they keep the tourists awake. You will definitely see amazing birdlife and turtles by torchlight but the real prize for diving addicts is the sea life and coral offshore - the area is one of the world's top 10 diving spots. This is a place to get back to nature, especially during the November to March turtle season. It's not cheap, with four-night packages from around $1500 for two adults with kids able to stay and eat free.
WHERE: A two-hour ferry ride from Gladstone.
5
Qld: Night creatures in the Daintree
Rainforests come to life at night, and no more so than in northern Queensland's stunning Daintree. Forest dragons, tree snakes, bats, fireflies, possums and even fungi that glow in the dark are all on show during the night walks, which are on offer from Daintree hotels or through organised tours from Cairns or Port Douglas. You'll hear the frogs chirp and see some of the best tropical rainforest critters mother nature can offer.
WHERE: 90-minutes drive from Cairns.
6
Tas: Roar back at the Tasmanian Devil
These poor little creatures have a roar louder than their bite and they are now endangered thanks to a horrific facial cancer spreading across the island. There are various Tasmanian Devil sanctuaries throughout the Apple Isle where you can catch a glimpse of these creatures, but families can also join the battle to save them from the disease by volunteering for field trapping and monitoring in remote parts of Tassie. The volunteers get food and accommodation, but must pay for their own transport.
WHERE: Throughout Tasmania.
7
NT: Croc-watching
Those crocodile-infested rivers around Darwin have to be good for something, and entrepreneurial tourism operators now offer an abundance of boating tours where you can feed or simply watch the crocodiles on the Adelaide River, between Darwin and Kakadu. Some operators shut down in the wet season between November and March, which is also an unpleasant time of year to be in the top end unless humidity and thunder storms are your favourite things. Tours start from around $30 a person, and people who have seen one tonne of prehistoric eating machine launch itself from the muddy river to snare some food say it's worth it.
WHERE: An hours drive from Darwin.
8
SA: Flinders Ranges
To see unusual marsupials like the dunnart, planigale and euro then head to the remarkable Flinders Ranges, where you might also be able to spot the rare yellow-footed rock wallaby in the wild. It's a hot, arid landscape full of spectacular gorges and creeks that is quite unlike anything else in Australia. Try to visit in winter before the temperatures soar into the 40s! There are plenty of camping options through the ranges, as well as tours and self-drive itineraries.
WHERE: Around 450km north of Adelaide.
9
NSW: Dive with the sharks
If someone in the family is in urgent need of an adrenaline rush, then Oceanworld at Manly on Sydney's northern beaches could be the place for you. They don't just offer a chance to get in the water with the sharks, but they do it at feeding time for some extra heart-thumping thrills. Divers who pay $225 are given a lesson on using scuba equipment and then thrust into the shark tunnel to be surrounded by grey nurse sharks, stingrays, turtles and moray eels while food is being handed out.
WHERE: Oceanworld Manly, Sydney.
10
Qld Gold Coast: Birdwatching in Lamington
The 20,000 hectare Lamington National Park is not far from the theme parks of the Gold Coast, but is a rainforest home to frogs, snakes, pademelons - a very cute and squat wallaby - and an abundance of birds. There are lyrebirds, bowerbirds and paradise riflebirds with plenty of tours for the dedicated birdwatcher running from the various guesthouses in the park. Camping is at national park rates or choose to stay in one of the more luxurious lodges.
WHERE: 45-minute drive from Surfers Paradise.
ANY IDEAS ABOUT THIS TOPIC?