While emaling a resume through Internet, it is very important to send it according to the instructions of the employer on how to send cover letter and resume. It may be required by the employer that the resume has to be attached and submitted in a specific format such as a PDF document or Microsoft Word document. While submitting your resume via email, you can copy and paste the cover letter in the email message or include it in the body of the message.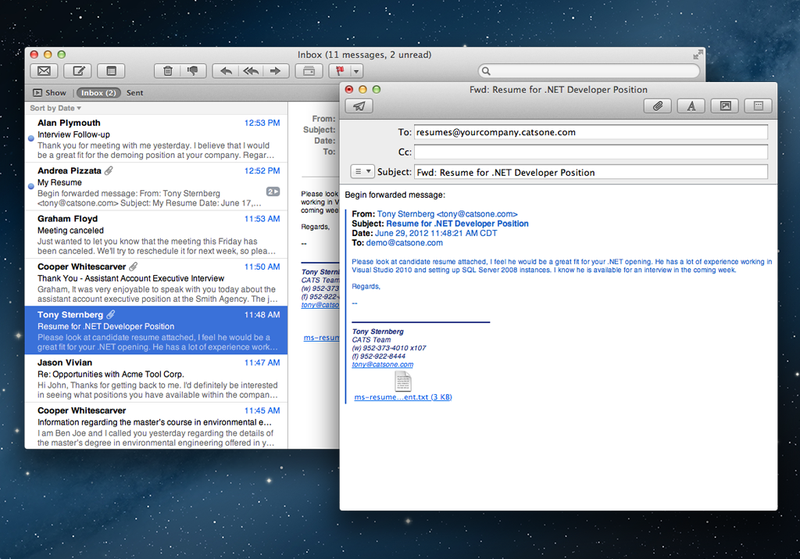 Part 1: Steps of Emailing a Resume as Attachment
1
Make your cover letter and the resume in the format specified by the employer. Attach the cover letter and resume as separate attachments. It is better to name them in such a way that the employer can associate them with you after they download the attachments. Be sure that your documents do not contain any virus.
2
Write the name of the position you are applying in the subject line. In the message briefly write the reason of your sending the email. You should also ask the employer that they can contact you in case there is any trouble in opening the attachments.
Part 2: Sample Contents of Emailing a Resuem as Attachment
Sample 1:
Dear Mr. Rogers,
I am posting my resume for the position of Grant Writer at Friends of the Earth, which was recently posted on Idealist.org. I believe that I am well qualified for this position, and I am very enthusiastic regarding this opportunity. My resume and cover letter are attached. Kindly contact me if you experience any problem in opening the attachments.
Thank you for considering me.
Sincerely
Jane Austin
Sample 2:
Dear Ms Johnson,
I am posting my resume for the position of Pediatric Unit Registered Nurse, which was recently posted on your website. I have recently graduated from the Ohio State University and am very enthusiastic about this opportunity. My resume and cover letter are attached. Kindly contact me if you experience any problem in opening the attachments.
Standing by,
Kathy Lloyd
Sample 3:
I read your job posting online for an Express Delivery Facility Operations Coordinator. I would like to introduce my qualifications to you. I will be leaving the U.S. Marine Corps within 2 months after serving there for 10 years. My cover letter and resume are attached. I will be relocating to Louisville in June; in case you want to know how I could qualify for this position, you may consider arranging a telephonic or online interview before then. I would be truly grateful for that. Please call me at (826) 555-0111.
Sample 4:
Dear My Kyzer,
I noted your job post for an Instructional Designer online. I will be finishing a master's program in Instructional Design at the University of Ohio in May. I believe that my qualifications are an excellent fit with the position you have advertised.
I will give you a call next week hoping that you would be able to check my resume till that time.
Sincerely,
Shelby Barnum
Part 3: How to Email Your Resume in the Body of Email
Write your brief introduction and paste your cover letter below that (preferable a couple of spaces below). Justify everything to the left. Paste your resume a couple of spaces beneath the cover letter. You may be required to reformat your resume so as to paste it in the body of the message. Take care to justify everything to the left. It is advisable to first check by sending the email to yourself and a friend before you send it to the employer.
Part 4: Dos and Don'ts When Emailing a Resume
Always follow the employer's directions. It is advisable to always follow the directions given by the employer as employers are usually not tolerant of applicants who disregard their directions. If the employer asks for a resume in PDF, do not send it in word document, instead convert it into one. Similarly, if you are required to include a cover letter, do include it.
Be careful of the auto-fill option in email. There are many cases where the applicants end up sending the resume to their boss. So, it makes sense to dedicate one email account for searching jobs.
Resume should always be sent with a message. Always ensure that you write an email message with your resume and just not send the resume by itself. It is required to make it clear why you are writing and what post you are applying for.
Refrain from using your work email. It is not considered smart to apply using your work email account. Employee's email activity is monitored in many companies. Moreover, it makes a bad impression on the prospective employer.
Refrain from using a Spam Blocker. There are spam blockers that may require the sender who is not in your online address book to fill in a form online before they can send a message to you. It is a bad idea to let your prospective employer go through these hurdles.
Send a test email message. It is better to send a test email with the message and the resume attached to yourself to see if the formatting is right. Also open the attachment to make sure that the right file is attached, which opens correctly. Resend the message to the employer if everything is in place.
Other details. Ensure that you write the position you are applying in the subject of your email message. Always include your contact information with a signature, so the hiring manager can easily contact you.
Want to know detailed steps of emailing a resume, watch the video below:
ANY IDEAS ABOUT THIS TOPIC?